Here's What's Been Happening . . .

The annual Christmas party was held at Rancho Santa Rosa, in Temecula. It was an outstanding venue for this gala event for the more than 40 horsemen that attended. The food and the company was exceptional. We spent several hours of catching up, socializing, and horse talk with various members and friends.
We had a special guest in attendance, trainer Nick Hines. He led a lively conversation on the state of California Horse Racing. One of the evening highlights was the gift basket raffle. This year's Christmas party was a great success. Thank you to everyone that helped out and a special thank you to Roberta Peterson and Rancho Santa Rosa.
| | |
| --- | --- |
| (Top) Trainer Nick Hines leads a lively conversation on the state of racing in California. (Right) President Sid Huntley displays the Christmas baskets before the raffle. | |

The November 21st CTFMA meeting was quite outstanding. The speaker was Dr. Norm Rantanen, DVM, MS. He presented to us a glimpse of his life work, as he progressed through the newest advancements in digital radiology, ultrasound, and nuclear scintigraphy.

CTFMA president Sid Hundley, Dr. Norm Rantanen, and Jerry Murphy. Rantanen was the featured speaker at the CTFMA November meeting.

Hundley presents a plaque to
Kimberly Carville.

He spoke of his many travels to Kentucky, Europe, and Dubai as he evolved into the race horse world. It was both an educational and enjoyable evening for a record number of members and horseman that attended.
We also paid a special tribute to outgoing President Kimberly Carville. She was awarded a plaque for her past years of service to CTFMA.

A short board meeting was held and the following items were discussed:


Donations of $1,500 each will be made to; UC Davis Silver Stirrup Society, Grayson Jockey Club Research Foundation, and the Chaplain Program at San Luis Rey Downs.


CTFMA Elections will run at the January meeting


Changes and updates will be made to the CTFMA bylaws


The new membership form will be out soon


We will continue setting up the process to donate two scholarships to Cal Poly for the upcoming year.


Name tags will be developed for use at the meetings & announcements will now be made at the start of each meeting.

The October CTFMA meeting was held on Tuesday the 18th at the Murrietta Sizzler. It was an outstanding meeting. The presenter was
Brian Borg, from Advanced Equine Dentistry. He discussed the issues of correct teeth care. Many very experienced horsemen learned new information.

There is so much more to teeth care than an annual teeth floating. Brian had many visuals by way of
actual horse head skulls with teeth intact. He was
able to demonstrate the alignment problems that
can occur from normal eating, grinding, age, and growth of teeth.

His presentations are now a part of a series on Horsecity.com, a cable TV series. It can be viewed throughout the next two months.

This meeting was very special to all the membership as we bid farewell to Clydene Boots. She is re-locating to northern California this month. Clydene has been a stronghold for our group and will be sadly missed in the future.

A short board meeting was held after the meeting and the following points were discussed:
Date of the next meeting will remain
on Tuesday 11/21/06 at the Sizzler.
End of the year donations to Horse
Groups are being discussed
We need new person/persons to take
over the door prize table
We would like to put the newslettero n e-mail
We will change the membership application to include e-mails
We need a location for the Christmas party
Elections are upcoming ~ please let us know if you would like to run for an office

Our speaker, Brian Borg, and
treasuer Marianne Hebner
show the Horse skull with
teeth alignments.


Clydene Boots and president
Sid Hundley.


The farewell cake for
Clydene Boots.


Over 100 people attended CTFMA's summer fundraiser held July 18 at Vessels Stallion Farm in Bonsall, including many folks from the immediate area, Bonsall Chamber of Commerce, and a couple of political figures. Also introduced to the crowd were directors of the California Thoroughbred Breeders Association whose President Frank "Scoop" Vessels had hosted their board meeting earlier that afternoon. Proceeds will benefit the Center for Equine Health at UC Davis.

Scenes from
theCTFMA summer
fundraiser at
the Vessels Stallion Farm.




Despite the heat wave, it was cool and shady under the trees by the lake, and the setting couldn't be lovelier. Thanks so much to Scoop and Bonnie, their farm manager Kevin Dickson, and other staff for welcoming us to their beautiful farm.

Another capacity crowd for the June 20 presentation on laminitis by Mark Silverman, DVM, MS. He discussed the two (essentially opposing) theories as to what actually happens within the foot when laminitis occurs, along with prevention and treatment. Our thanks to CTFMA Vice President Lita Tabish for lining up this excellent speaker. And a reminder -- ALL horselovers are welcome at our dinner meetings.

The May 22 meeting drew a capacity crowd as Dr. Andy Walker discussed the use of Platelet Rich Plasma (PRP) in tendon and ligament injuries. We learned the theory and procedures involved, and how it fits in with other new treatment modalities for equine injuries. Dr. Walker can be reached at (858) 728-2319.
We also celebrated the 70th birthday of our President, Sid Huntley.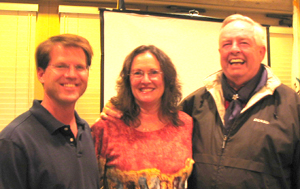 Dr. Andy Walker, CTFMA treasurer Marianne Hebner, and CTFMA president Sid Hundley.

At the April 18 meeting, Tina Kemper, DVM, from San Luis Rey Equine Clinic discussed clostridial infections in newborn foals. This fast-acting and deadly disease is becoming increasingly common, especially on farms who house large numbers of mares and foals, but it can occur on small farms as well since it is ever-present in the environment. Early recognition and treatment are critical if the foal is to survive, but prevention is the long-term solution since resistance is becoming a problem with the drug most frequently used.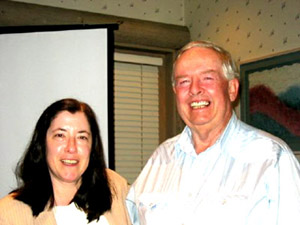 Dr. Tina Kemper and CTFMA president Sid Huntley.

At our March meeting, Leigh Ann Howard showed us the Horse Farm Safety Video and explained how such a video can be a starting point for training farm staff (and documenting that training!) to create a safer environment for both handlers and horses, and hopefully helping hold down Workman's Compensation costs. The video was created by California Thoroughbred Breeders Association Education Committee of which Howard is the long-time chairman, and was professionally produced. It is available free of charge to CTBA members and can be purchased by non-members.

At the February 21 dinner meeting, we found ourselves without a speaker and with a fairly small crowd, so our new president, Sid Huntley, improvised nicely and we all shared a bit of our background and current involvement with Thoroughbreds. Most interesting--who'd have thought Keith Card grew up punching cattle in Montana! And even as our horse operations shrink in size or change location, we all seem unable to give up the Thoroughbreds entirely. Sid is now managing RenMar Thoroughbreds in Temecula, where Jeanne Davis had been for some time before she went back to school for her teaching credential after seeing the area change from horse farms to housing developments. Skyjack is one of the more noteable retirees at RenMar, but Sid indicated all the Lambert's horses come home for retirement on their lovely tree-shaded 40 acre farm. Which makes for a great life for the staff, too. No foaling or breeding, or outside horses, and lots of retirees.

Our January 17 speaker was Shannon Keller of Triple Crown Feeds, updating us on the latest research in equine nutrition, and how the findings have been incorporated into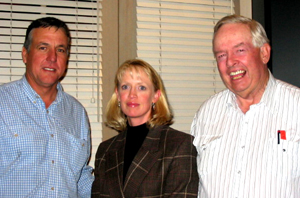 Chuck Gawle and Shannon Keller (left and
center) of Triple Crown Feeds and CTFMA's new
president, Sid Hundley.


their line of feeds for horses with varying nutritional needs. Our thanks to Chuck Gawle, the local Triple Crown rep, for arranging for Shannon to meet with us.

2005

On December 13 we enjoyed another memorable Holiday Party at Keith and Barb Card's lovely Hi Card Ranch home near Murrieta. Lots of good food and conversation, with festive gift baskets doing to a lucky dozen folks in the drawing that topped off the evening.

On October 18, we were privileged to have as our speaker Doug Herthel, DVM, founder of Alamo Pintada Equine Medical Center in Los Olivos, CA, and Platinum Performance Inc.
In order to better treat the medical problems of their equine patients, through the years the clinic hs actively explored and developed additional treatment modalities. Thus Dr. Herthel was one of the pioneers in bone marrow transplants, and he addressed the nutrition aspect of disease prevention and treatment by developing the Platinum Performance line of products. Now, the clinic has a hyperbaric chamber to provide the unique benefits of oxygen therapy.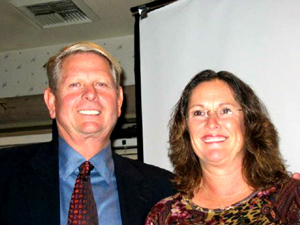 Dr. Doug Herthel and CTFMA member Marianne Hebner.


It was a fascinating and highly informative evening as he discussed how these things evolved, what worked and what didn't work in specific cases, and gave us all a better understanding of the role of nutrients in equine and human health. We very much appreciated Dr. Herthel making the trip to meet with our group--especially since his busy schedule made it necessary for him to fly in to our local airport.

At our November 15 meeting we got an update from Michael Dale, co-founder of Vet-Stem inc., on their ongoing work in equine stem cell therapy.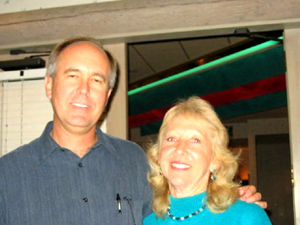 Michael Dale and CTFMA president
Kimberly Carville.


Vet-Stem extracts the stem cells from a small amount of a horse's fat, then ships the cells back to the referring veterinarian to be injected into the injury site, such as the tear in a bowed tendon. Vet-Stem has been keeping CTFMA members current on their work since they developed the procedure a few years ago, and several members have used it on their own horses. Plus some have participated in ongoing Vet-Stem research. The company is located in the San Diego area, but serves equines throughout the country. Visit www.vet-stem.com to learn more.



The Tuesday September 20 dinner meeting was very informative, and lots of fun as well. Equine attorney Bing Bush showed us how to create a business plan based on your individual circumstances. Then he discussed the various forms of ownership that can be used for a business and the advantages and pitfalls of each. An outline of what he covered will be mailed to CTFMA members with the nextmeetig notice, or can be obtained from his office: 1-800-745-9336 or www.horselawyers.com.

Longtime CTFMA member Austin Dwyer turned 90 on September 12, so we celebrated that milestone with a cake and a rather bad rendition of Happy Birthday. Austin's homebred Annie's Irish King won by a distance at Fairplex Park around the time of his birthday, which was fitting.

The evening's raffle was even better than usual, thanks to some items donated by Bonsall Feed.

A board meeting was held after the regular meeting.

Our summer party - fundraiser July 19 at Vessels Stallion Farm was again a terrific event. About 70 area horsemen and friends fled the heat to enjoy the cool breezes and very scenic (and shady!) lakeside setting. Proceeds will benefit the Center for Equine Health at UC Davis.
There was an abundant potluck buffet while we viewed the farm's world-class Thoroughbred and Quarter Horse stallions and the "rookies" who have recently gone to stud. The high point of the evening was the raffle which had turned into an absolute bonanza when the new owner of Bonsall Feed showed up with his Triple Crown Feed rep and a pickup load of feed, supplements, and grooming supplies plus a certificate for 20 bales of alfafa! Their genorosity is greatly appreciated. That was in addition to an already well-stocked table heaped with books, tack, apparel and similar items. Again this year we were given a $100 gift certificate from Dan's Feed, a collectible miniature tractor from Pauley Equipment, two tickets to the Cal Cup infield party, a Barretts jacket, and use of the Barretts/Fairplex box at Santa Anita any weekend day during the Oak Tree meet. That was chosen by non-racing people who were brought to the party by Leigh Ann Howard. Hopefully it will get them hooked on racing. Thank you to all who supported the fundraiser by donating items and buying tickets.
And a very special thank you to Scoop and Bonnie Vessels and their staff for again hosting the event and sharing their lovely farm.

We had a very lively meeting June 21, with Joe Masino and Bruno De Julio from Class Racing Stable. Joe gave us an overview of how they create and maintain their partnerships. Bruno is absolutely passionate about racing, and gave us his opinions on what is currently wrong with the sport, and some things that need to be done to improve the situation.

The May meeting featured record-breaking trainer Doug O'Neill, who fell in love with the racetrack at an early age, and started getting lots of "hands-on" horse experience when his father bought some land near Temecula and the family developed a small Thoroughbred farm. They were regulars at our CTFMA meetings as a way of picking up knowledge from their fellow breeders, and Doug especially thanked long-time owner-breeder Austin Dwyer, whose farm was nearby. (Incidentally, Austin was able to attend the meeting and was looking good, after suffering several small strokes in early April.) Doug started his training career with a couple of the family's horses, while still working for the phone company. And now he's at the top!
We had a big crowd, with all of us eager to hear Doug's "secrets", and it was great to have Doug, his lovely wife and kids, and his mom, back with us for a while. The raffle, which benefits charities supported by CTFMA, featured one of those terrific Barretts jackets, courtesy of Barretts president Jerry McMahan, who spoke at our April meeting. Jerry Murphy, of Burma Ridge Ranch in Bonsall, had the first ticket drawn, so nabbed the jacket. But there were lots of other goodies, so most folks went home with something.

Our speakers at the April 19 meeting were Doug Burge, general manager of CTBA, and Jerry McMahan, president of Barretts Equine Ltd. Their focus was on the new California October Yearling Sale, which combines CTBA's Del Mar Yearling Sale and Barretts Preferred Yearling Sale. The expectation is that by having 350 of the best yearlings at one convenient time and location, more of the country's top yearling buyers will be attracted, and the results will be more favorable to sellers than when the two sales were held separately.
Jerry provided some very helpful tips on placing young horses in the various Barretts sales, and discussed various aspects of the Barretts bone warranty.

Those folks who missed the March 15 meeting due to foaling mares, etc., missed a very entertaining evening.
The presentation by Nancy Nunke from Spots n Stripes Ranch in Ramona was both informative and entertaining. There, she and her husband David raise zebras and the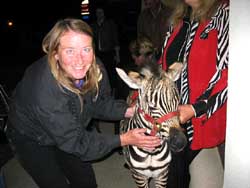 various crosses. But the surprise at the end of the meeting what what made the evening especially memorable . . . we slipped out the back door of the Sizzler to find a beautifully behaved and unbelievably adorable 9 day old zebra. On a scale of cuteness, that little guy ranked WAY above the cutest TB foals I've ever seen, and we all know how special they are!!
From what we learned earlier, we knew it was a Grants Zebra as its markings extended in beautiful symetry all the way down to its hooves, which were dark and very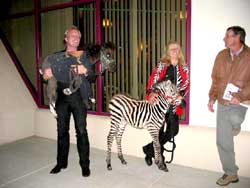 dainty. The head and muzzle were very refined, and the huge dark eyes appeared accented with eyeliner. And yes, if you stroke a zebra's coat with your eyes closed, you can feel the stripes as the dark and light hairs have a different texture. That's David and Nancy in the photo at the left with an eight-month-old "miniature horse" and the nine-day-old zebra foal.
The zebras and crosses Nancy sells go for a variety of uses, mostly the same things horses are used for. They have unusually strong and flexible hindquarters, so excel at jumping. At the moment,Nancy is looking for awell-conformed 16.2 mare to cross with one of her zebra stallions to produce a taller, more elegant animal for the showring. To learn more about their program, visit www.spotsnstripes.com. You'll enjoy it!

At our February 15 meeting, Gary Cranney, DVM, again drew a capacity crowd with his insight into the problems facing us during foaling and breeding season. What makes him a favorite with our group is his willingness to discuss possible solutions to specific problems brought up by the audience, drawing on his own extensive experience as well as research results and AAEP reports.

| | |
| --- | --- |
| Featured speakers at recent CTFMA meetings were Dr. Gary Cranney (above) and Craig Dado (right). | |

Our January 18 speaker was Craig Dado, Direcor of Marketing for Del Mar Racetrack, who gave us a crash course in marketing principles, then showed us how they are successfully targeting the young female market.

The December 21 Holiday Party was very special, graciously hosted by Keith and Barb Card at their lovely Hi Card Ranch in La Cresta. Thank you!
And we want to make note of the many years of service Hank Loots gave our group as Treasurer -- collecting for the meals at the dinner meetings etc along with handling all the finances, keeping our non-profit paperwork done, year after year.
We've found a diligent successor in Lita Tabish, and Hank will take her spot on the Board. Another new Board member is Jerry Murphy, manager of Sue Briles' Burma Ridge Ranch in Bonsall. Jerry will finish out Dan Schiffer's term, as Dan thinks it likely he will be leaving the area. Dan, the entire Schiffer family, and their farm manager Joe Pruitt have been loyal supporters of CTFMA for many years, and he will be missed.

A capacity crowd attended the November 16 meeting featuring Dr. Barrie Grant of San Luis Rey Equine Clinic, and his new clinician Dr. Brad Scheuch. They discussed the clinic's new CAT Scan machine and how it fits with other diagnostic tools, showing the images from actual cases to illustrate the kinds of cases where the CAT Scan can reveal the problems that could not be found with more traditional techniques.
2004

Advances in equine diagnosis and treatment were the major focus at our dinner meetings this year, with some excellent speakers:
Robert J. Harman, DVM, MPVM, discussed "Stem Cell Therapy in Horses -- Now a Reality" and this fascinating topic elicited questions and
discussion far past our usual closing time.
Dr. Barrie Grant of San Luis Rey Equine Clinic and his new clinician Dr. Brad Scheuch discussed the clinic's new CAT Scan machine and how it fits with other diagnostic tools, using images from actual cases.
Mark Martinelli, DVM, MS, PhD updated us on the "Standing MRI" program he is operating at Equest Imaging Center in San Marcos.
Dr. Kevin May discussed his portable machine to detect equine ulcers.
Equine nuritionist Richard Godbee, Ph.D., discussed nutrition for the
pregnant mare and young horses, and updated us on nutrition-related
research.

One meeting focused on another critical aspect of our business --
"Selling at Auction." Kathy Berkey, of Berkey Bloodstock covered sale
selection and sales prep. Bill Baker, vice president of Barretts Equine
Limited, discussed their various sales.

The July summer party/fundraiser at Vessels Stallion Farm was again a
highlight of the year. And we closed out 2004 with our Holiday Party,
graciously hosted by Keith and Barb Card at their Hi Card Ranch in La
Cresta.

2003

Tuesday, October 21 - 6:30 p.m. dinner meeting at the Murrieta Sizzler. This is the third Tuesday, as Barretts Mixed Sale is on the fourth Tuesday. Learn how "standing MRI" can help your horses! The public is invited to a discussion by Dr. Marc Silvermann of San Dieguito Equine Practice, regarding their recently acquired "standing" MRI machine.. Racehorses in this area, as well as other performance horses, can now benefit from this very useful diagnostic tool without the risks of anesthesia.
Dr. Slvermann specializes in laminitis and other serious disorders of the equine foot and leg, and these services are available on a referral basis.
The presentation will be part of the CTFMA dinner meeting 6:30 p.m. Tuesday October 21 at the Murrieta Sizzler, which is just east of I-15 and I-215 on Murrieta Hot Springs Road. Reservations are not necssary.
The evening will also include a raffle of equine-oriented items, with all proceeds going to charitable groups which benefit the Thoroughbred. Included will be a complementary hotel stay in the Santa Rosa wine country.
Here's what's been happening . . .

At our September 23 meeting, Theresa Polich from Merial gave us a great review of basic equine parasitology, updated us on research regarding increased resistance by certain species in various geographic areas, and discussed their new product Zimectrin Gold which kills tapeworms in addition to the usual suspects since it contains praziquantel along with ivermectin.

The July 22 potluck/party fundraiser netted slightly more than $1,000 for the Center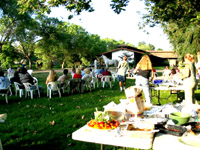 for Equine Health. Over 80 area horsemen enjoyed the lovely weather and incredibly beautiful site at Vessels Stallion Farm. The raffle included a wide (and sometimes wild!) \variety of items, with the most sought after including a model Kubota tractor donated by Pauley Equipment; a $50 gift certificate from Dans Feed and Seed; the use of the Barretts box at Oak Tree on a weekend day, donated by Barretts/Fairplex. Thank you to all who participated.
And a special thank you to Scoop Vessels and his staff for their hospitality.

At our June meeting, we got an update on all the physical improvements and activities going on at San Luis Rey Downs Training Center in Bonsall. The speaker was Laura Rosier, Human Resource / Project Director at the Downs.

| | |
| --- | --- |
| | At the May meeting, Dr. Gary Cranney again drew a capacity crowd, discussing some of the major health risks faced by foals. |

Mike Marten, spokesperson for the California Horse Racng Board, was the speaker at the April meeting.

On March 25, the program on West Nile Virus was very well attended. The presenation from the educational department of Fort Dodge Animal Health really covered all the bases on this relatively new disease. The audience included a number of horsemen from other breeds and disiplines, as these CTFMA events are open to the public.

Speakers at the February 25 dinner meeting were Susan O'Hara, founder of the Groom Elite Program, and Dr. C. Reid McLellan, director of education at Lone Star Park. The Groom Elite program began at that track is spreading throughout the country. The first class at Santa Anita began February 24. This intensive program is designed to provide the backstretch workers with an opportunity for personal and professional
growth by increasing their understanding of thehorses with which they work, and enhancing their professional skills.
This is an incredible program that should be supported by every breeder, owner, trainer and racetrack, for the skills being taught will greatly enhance backstretch safety, and the wellbeing of the racehorses.

Our CTFMA family lost another much-loved member with the February 10 death of Jewell Dwyer, following a long illness. Her husband Austin Dwyer has been active in CTFMA since the sixties, holding various offices. They hosted several CTFMA events at their Dwyer Ranch near Temecula. A donation in Jewell's memory has been made to the California Thoroughbred Foundation.

A near-capacity crowd at the January meeting enjoyed Pete Siberell's "Seabiscuit stories." He was the Magna Entertainment/L.A. Turf Club liason with the movie company during the recent filming for the Seabiscuit movie at Santa Anita.

Our group (and the entire industry) recently lost two beloved members with the deaths of Matt Griffin, and Bart Baker, D.V.M. Donations have been made in their memory to the California Thoroughbred Foundation.
The Holiday Party at the Schiffer family's Hat Ranch West was most enjoyable, though the group was smaller than usual. The evening of the party was still and beautiful, but the violent storms that swept through the area earlier kept many folks at home.

Our November 26 meeting was quite enjoyable but with a different program than expected as our speaker had to cancel due to illness. So, the morning of the meeting, our president Leigh Ann Howard went to work with her camera and computer and developed a terrific presentation of the many recent physical improvements being made at San Luis Rey Downs.
And luckily Pat Thompson happened to pick that night to bring along the video from the Dubai World Cup that she had promised to show us sometime. What a spectacle that event is!! And what a thrilling stretch run Pat's Grey Memo put in to win the Godolphin Mile.
At the board meeting before dinner, we authorized the following donations: $1,000 to the Center for Equine Health at UCDavis, and $500 each to the racehorse ehab/retirement facilites CERF, Pegasus, Tranquility Farm, and Glen Ellen Vocational Academy, plus $500 each to the Piedra Foundation, the Racetrack Chaplaincy of San Luis Rey Downs, and the REINS Therapeutic Riding Program. The donation to the Center for Equine Health is made each year, but other recipients and amounts
vary from one year to the next. We also will be providing support throughout the year to the California Thoroughbred Foundation.

We had an excellent and very informative speaker at our October 22 meeting: equine dentist Todd Williams from Equine Dental Consultants Inc., of Alberta, Canada.

Many thanks to our September speaker Bob Fox, legislative advocate for several groups in the thoroughbred industry. Bob flew down from Sacramento justto meet with us, and did an excellent job of giving us an up-to-the-minute picture of what is going on in the political arena and how it pertains to our industry.

Burma Ridge Ranch was indeed a lovely place for our summer party and was attended by a number of industry folk in addition to our own members. The raffle was well supported, and Fresno area breeders Dan Harralson and Myron Johnson fared well. Dan took home the wine rack made of horse shoes, donated by Sid Hundley, and Myron chose the Richard Stone Reeves art book. Barretts sent us a very nice jacket, selected by our own Mary Anne Schiewe, and there were many other items as well.

The presentation by Dr. Barrie Grant drew another near-capacity crowd. He is the leading authority on diagnosis and treatment of wobbler syndrome, and discussed the surgery he did on Seattle Slew several years ago. His remarks and numerous videos gave us a very personal look at that incredible stallion and the people who loved him. This meeting was dedicated to Slew and the influence he and his sons have had on California racing and breeding. The raffle featured old-time movie lobby cards along with other items.

Speaker at the April 23 meeting was Ed Halpern, executive director and general counsel of the California Thoroughbred Trainers. It was very informative as he discussed the role of that group, the various benefits provided the backstretch workers, and some of the serious problems facing the industry.
We had fun too, raffling several donated items including the terrific new book "Stud". We'll be doing this each meeting, as a way to raise money toward the charitable contributions we make at the end of each year.

The March 26 dinner meeting was especially festive as we welcomed Pat Thompson back from her foray into Dubai, where her homebred Grey Memo took the Godolphin Mile.
Special congratulations were also give to CTFMA member Wes Fitzpatrick, whose two-mare broodmare band has given him multiple GSW Irisheyesareflyin' and Continental Red, recent winner of the GII San Luis Rey Handicap.
Guest speaker was John Van de Kamp, President and General Counsel of Thoroughbred Owners of California. He discussed some of the recent developments in the industry, especially the Workmans Comp. insurance crisis.

A capacity crowd attended the February 26 Dinner Meeting for the foaling/neonatal presentation by Gary Cranney, D.V.M., who is the reproductive vet for several leading Thoroughbred farms. He also covered some of the research presented at the recent AAEP convention, and graciously stayed long past the meeting's end for further discussion with some of us.

CTFMA member (and our website sponsor) Pat Hurley was recently elected to the board of directors of the California Thoroughbred Breeders Association. Re-elected to the CTBA board were CTFMA members Leigh Ann Howard from Valley Creek Farm and Frank "Scoop" Vessels from Vessels Stallion Farm; John Barr, owner of member farm Los Amigos Thoroughbreds; and Joan Rogers who owns Applebite Farms in Northern California.

The January meeting was well-attended for speaker Jack Liebeau, President of Santa Anita and of Magna of California. He gave an overview of the just-approved plan for Advance Deposit Wagering which Magna is offering through Xpress Bet, and touched on their plans for television coverage of racing. Jessica Anderson of Xpress Bet gave us the "how to set up an account and bet" information, and demonstrated with her cell phone. It looks exciting, especially for those of us who find it hard to get away from the farm during breeding and foaling season. Xpress Bet was totally swamped by callers wanting to set up accounts by phone of online the first couple of days, the demand was so great.

The Schiffer family again hosted our Holiday Party/ potluck supper at their Hat Ranch West near Temecula. Incidentally, Hat Ranch has some of their lovely mares in Barretts January Sale, making room for younger ones coming home from the track.

What a fun meeting we had November 27 with Julie Krone-Hovdey as our speaker. She doesn't just TELL a story, she replays the ride the length of the dining room! Thanks Jay and Julie for warming up a very chilly evening, and thank you to Kim Carville for arranging it. What a shame some of our regulars weren't able to come. However we had several new people there who are joining our group. Welcome, to: Can V. Nguyen of Fallbrook, Charles and Elise Parish of Temecula, Lita Tabish of Fallbrook
We've picked up our first two "business card" advertisers for the meeting notices. Thank you Pat Hurley, the Horsetax man, and Grace Belcuore of CERF.
Around the Farms . . .

CONGRATULATIONS AGAIN!!! . . . to our very special Skyjack and his owner/breeders Ren-Mar Thoroughbreds of Temecula (Rene and Margie Lambert) and trainer Doug O'Neill. The 6-year-old Jaklin Klugman gelding took the GI Hollywood Gold Cup in thrilling fashion.

CONGRATULATIONS . . . to CTFMA member Pat Thompson and her partners, whose Grey Memo drew off in the Godolphin Mile to win by three Saturday in Dubai. Bred by Pat's Ridgeley Farm, the Cal-bred is by the Ridgeley Farm stallion Memo out of a Snow Chief mare.

Pat Thompson of Ridgeley Farm will soon be trekking off to Dubai to watch her homebred Grey Memo run in the March 23 Godolphin Mile. The son of Ridgeley Farm stallion Memo recently ran 3rd in the GI San Carlos at Santa Anita at 7f, so we hope this will be just right for him. Pat will be back in time for our meeting the 26th, so it should be "drinks for the house" if he wins!

In early February, a very special foal was born at Valley Creek Farm -- a grey/roan colt by Skip Away out of Lady's Secret by Secretariat, owned by John and Kim Glenney of Lexington, Kentucky.

When the November 17 CTBA Stallion Tour hit Rick Taylor's Special T Farm, star of the show was the newly-arrived Comic Strip, who had a weanling sell for $120,000 a few days earlier at Keeneland. Other farms on that tour were Vessels, Valley Creek, Golden Eagle, and Ballena Vista.

Gary and Marlene Howard of Hideaway Farms seem to be constantly adding interesting stallions, with Kentucky import Dumaani the latest. He'll be seen on the December 15 Stallion Tour, along with stallions at these farms: Mira Loma, Ridgeley, Kachina, Hanson, Lakeview, and Circle H.

Our speaker at the October 23 meeting was Joe Morris from Equisource, which is the group purchasing partner of NTRA. Many in CTFMA are also members of CTBA, which belongs to NTRA, and are therefore entitled to the discounts on everything except the larger John Deere equipment (which requires the individual $1,000 membership). The John Deere dealership in nearby Perris is very active in the program, so check this out if you are needing farm or grounds maintenance equipment.
Since I grew up in Kansas wheat country where John Deere was synonymous with tractor, I was thrilled to win the scale model collectors edition John Deere tractor which was the door prize. And I swear there was no graft involved! I did not, however, win any of the three pieces of lawn care equipment which were given away at the Cal Cup infield party.
The West Coast rep for Equisource, Jerry Sobul, was also at the meeting. He's the one to contact to learn more about the program and discuss your specific purchasing needs. Phone: 310-578-2270. Cell phone 310-936-2859. or email sobul@equisourcecom. Further information and updates are available at www.equisource.com.
At the board meeting before dinner and the business meeting afterward, discussion focused on alternate ways to raise money for our charitable donations, since the golf tournament with REINS therapeutic riding program has hit a snag. CTFMA board member Dan Schiffer and treasurer Hank Loots have been involved in the event since its inception fifteen or so years ago, when it was a very enjoyable and fairly profitable tournament put on just by CTFMA. They will be meeting with the people from REINS to discuss the situation. Because of the uncertainty of our finances over the coming year, the board voted to limit our year-end 2001 donations to the $1,000 we give each year to the Center for Equine Health at UC Davis.
Our mailing costs have become a major expense, so I'm going to see if I can get some "business card" ads in the monthly meeting notice / newsletter. At $40 for a dozen issues it would be an inexpensive way for farms and others in the industry to support the group and keep their names and services fresh in the minds of our members. Any of you out there who'd like to participate, send your business card and $40 check to CTFMA, Box 321, Murrieta, Ca. 92564 and I'll try to get this rolling by the January issue.

The September meeting at the Murrieta Sizzler was great. Good food in bright new surroundings, and a terrific speaker. Roger Licht, vice-chairman of the California Horse Racing Board, filled us in on the latest news from that scene, then fearlessly opened it up for questions and discussion. It got real lively as he played devil's advocate to ensure that all aspects of an issue were considered. I think he may have gained a new perspective on some of the difficulties facing smaller owners and trainers.

Successful and very personable trainer Ron Ellis was a most enjoyable speaker at our August meeting, and filled us in on the happenings at Del Mar racetrack, among other topics. The track renovation seems to have been a success, and hopefully the Ag District will proceed with the concept of building a training track and stabling at the nearby Del Mar Horse Park, which it also controls. Overuse of the Del Mar track has made proper maintenance very difficult.

We had a good turnout and great weather for the July 24 party/potluck supper at
Valley Creek Farm. Susan Dowalshahi of CHI Animal Therapeutics explained and
demonstrated their Equisonic QGM, which delivers sound waves to stimulate
the body to heal itself.

Debbie Shinner of REINS sends her appreciation to all of you who supported the 2001 REINS/CTFMA Golf Tournament. As always, it was very successful, and lots of fun. No, I did NOT win the BMW Roadster, or I'd be out cruising around.

The speaker in May was equine veterinarian Mona Boord, who specializes in allergies, and gave a very informative presentation. She is with Animal Dermatology Clinic, 5610 Kearny Mesa Road, San Diego, Ca. 92111 (858) 560-9393. CTFMA board member Kim Carville arranged for her to speak to us, as she greatly helped a couple of Kim's horses. Kim also arranged for our July speaker -- thanks very much, Kim.

I sadly report the late June death of long-time farm manager Gordon Van Every, from stomach cancer. He was managing Rancho de Esperanza in Hemet when I first met him, when I took a mare to Court Ruling. I was a "new kid on the block" at that point, yet he was so very gracious and helpful. He stayed on when John Zamora leased that property for JZ Stock Farm, which later moved to its present location near Temecula.

And Augie Trujillo was battling advanced cancer of the spine when I had a nice phone visit with him shortly after the Belmont. He had left Anza earlier in the year to stay with his daughter near Sacramento.

Dinner meeting at 6:30 p.m. Tuesday, March 27, at The Sizzler in Temecula. Guest speaker was Leigh Gray, who is a vet technician at the racetrack equine hospital, and a long-time fan of the very versatile Thoroughbred. She rehabs ex-racehorses at her small farm in Chino, then places them in second careers based on their soundness, temperament, and talent. She is especially involved in 3-day eventing, including the program at Galway Downs near Temecula, and has seen some of her graduates go on
to do very well in that field.

Guest speaker at the January 30 dinner meeting was the very entertaining
equine veterinarian, Marc Laxineta, DVM.

Nearly 50 people attended the December 19 holiday party/potluck supper at the
Schiffers' Hat Ranch West near Temecula. Door prizes (nearly all donated by members) included various gift baskets, tins of gourmet popcorn, and a lovely signed print by Fred Stone that went home with Bob and Bobbie Petersen of Rancho Santa Rosa.

The speaker at our November 28 dinner meeting was trainer Simon Bray, who has had a marvelous year. . . most recently taking the Nov. 25 G3 Generous S. at Hollywood Park for two-year-olds at a mile on the turf (and at a good price too--Startac, under Alex Solis, paid $19!)
He discussed some of his beliefs and training methods, and contrasted the environment and demands in his homeland of England with the situation here in the U.S. Simon is based at Hollywood Park, and will now be taking on some outside horses in addition to the Paulson stable since that stable is being substantially reduced since Mr. Paulson's death this summer.

At the recent CTFMA board meeting, approval was given for the following donations: $1,000 to the Center for Equine Health at UC Davis, and lesser amounts to the Horse Science Program at UC Davis, the Racetrack Chaplaincy at San Luis Rey Downs, Helen Woodward Foundation, Pegasus Foundation, and CERF.

The August 22 regular monthly dinner meeting turned out to be anything but regular when a surprise guest showed up: Hall of Fame jockey Julie Krone. She accompanied free-lance turf writer Jay Hovdey, the evening's featured speaker, to the meeting and though she didn't address the group, we were delighted by her presence.




Click here for more photos from the party.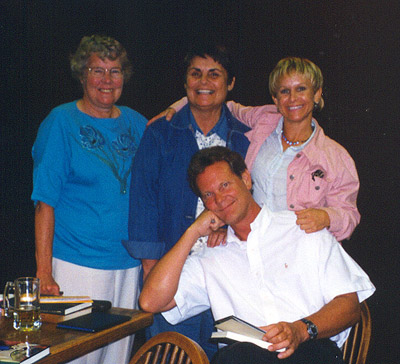 Left to right: CTFMA board chairman Clydene Boots, vice-president Leigh Ann Howard, Julie Krone, and Jay Hovdey (seated).
Krone has lived in California since last November after retiring from racing in April,
1999. She's working as an analyst on the TVG Network's television racing show and had the same role on the Hollywood Park replays show this summer. In addition, she's done voiceovers for Nickelodeon television.
She isn't riding races now, but she hasn't abandoned horses. She keeps a jumper and a team-penning horse at the Los Angeles Equestrian Center not far from her home in Burbank.

---

Jay shared memories from his turfwriting career, especially of Charlie Whittingham, and brought copies of his "Whittingham" book for all of us. We were able to get them autographed as a reminder of this very special meeting. Thank you, Jay and Julie! And a thank you to CTFMA director Kim Carville for arranging for Jay to be our guest speaker.