The Odyssey Performance Trainer, pictured here in manufacturer's photographs, allows horses to move freely between a set of gates that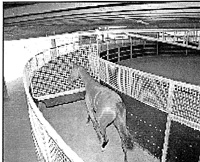 travel inside a circular fenced track. This allows them to move naturally, as they would in a paddock or on a lunge line, but at a specific pace chosen by the operator and programmed into the Odyssey's computer module.
For versatility, the speed and direction of the gates can also be operated manually. It provides an outstanding means of safely keeping racehorses in shape or rehabilitating injured animals.
Farrell Jones Thoroughbred Farm is proud to have added this state-of-the-art equipment to assist us in providing the best of care for our clients' horses..