The CTBA Irish tour continued with a trip to trainer John Oxx's yard, including driving over to the Curragh to watching the galloping. John was very thorough in all his explanations and generously spent a good part of his morning with us.
Then we met with Pat Kelly, the superintendent of the Curragh course. He explained the history of the various gallops and how each was handled on a day-to-day basis. The peat course was distinctly different and well marked. The polytrack was very similar to the Cushion Track at Hollywood Park, according to trainers Doug O'Neill and Juan Garcia. The actual racing surface never has horses training over it except in special instances where a trainer will pay a fee of around $300 dollars per horse and work over the track after the races. We were informed that was quite unusual.
Next we headed for another great lunch and the seminar with the leaders of the Irish Thoroughbred breeding and racing industry.
The lunch itsself was hosted by the Irish Thoroughbred Marketing group led by Michael O'Hagan. The first graduating class of the Darley Flying Start School for aspiring horse racing industry students also attended the lunch, so we all were able to visit with these young people on an informal basis. We were all amazed at the enthusiasm of these graduates. One graduate, Dan Blacker, will be joining Richard Mandella's training operation at Del Mar this summer. The next class includes a girl from Fallbrook, California!
The seminar was a complete description of how both the racing and breeding industry is managed in this country. Speakers were Joe Osborne, with the Darley Stud operation; Jim Kavanaugh, director of the Trainers association; Keith Row with the RACE school, which stands for Racing Academy Centre of Education; and Neil Walsh, who represents Horse Race Ireland, which is comparable to our Jockey Club and racing associations put together.
We presented Michael O'Hagan with a personalized signed copy of CTBA board member Bill Nichols's new book, "Seabiscuit, the Rest of the Story," as a token of our
appreciation for the effort they took to explain how the administration of breeding and racing works in Ireland.
Later in the day we attended the evening races at the close by track called Naas. This was our first experience with Irish racing. The track serves a great trackside "BBQ" and the racing was great fun. Several of our folks actually figured out how to bet and made some money.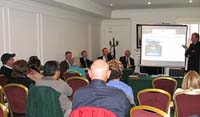 The afternoon seminar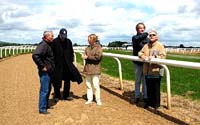 Pat Kelly, Doug'Oneill, Shirley
Kimball, tour director Doug
Thomson and Martha Miller look
at the polytrack gallop.
Juan Garcia, John Oxx and
Doug O'Neill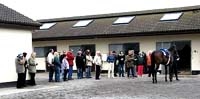 John Oxx's yard.