CTFMA is a non-profit organization based in Southern California, made up of farm managers, owners/managers and others who share our interest and love for the Thoroughbred. CTFMA offers educational activities, networking opportunities and a support system that is especially helpful to newcomers to the horse racing and breeding industry.
CTFMA sets up several special events each year. We welcome your participation in our activities! We provide a quarterly E-Newsletter packed with informative articles. Sign up below to be placed on the emailing list. Our latest news is posted here on our official website. For more information, please contact:
CTFMA
P.O. Box 876
Fallbrook, CA 92088-0876
Email us at CTFMA@yahoo.com
CTFMA Officers & Board of Directors
President: Bob Curtis
Vice President: Linda Madsen
Secretary: Leigh Ann Howard
Treasurer: Marianne Hebner
Board Members: Jeanne Davis, Carol Engles, Steve Hartshorn, Gil Pankonin & Lita Tabish
---
CTFMA News & Notes
January 2009 Meeting
During the CTFMA's January 20 meeting, guest speaker Dr. Marc Laxineta's subject was covered by a Power Point-assisted presentation discussing the variety of foaling problems we all could face this spring. While having foaling issues is not a pleasant subject, it is nice to know we have a very experienced veterinarian just a phone call away.

Dr. Laxineta interspersed his presentation with photos of some of his great scuba diving trips and old downed ship and airplane wrecks on the bottom of the ocean.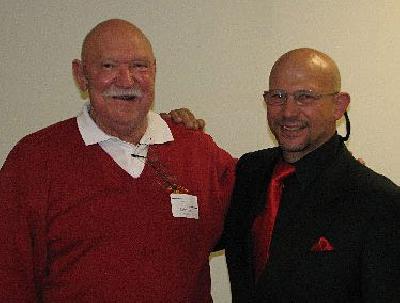 New CTFMA President Keith Card (left) and Dr. Marc Laxineta
---
The February meeting was held on Tuesday the 20th at 6:30 pm. Our guest speaker was Nancy Yearsley of Yearsley Bloodstock Insurance, Ltd. She gave a detailed report on the types of horse insurance available, the process required to obtain insurance, and the differences between domestic policies and international policies. There was a very lively and informative question & answer session where most of the horsemen present were able to get their personal questions & needs analyzed.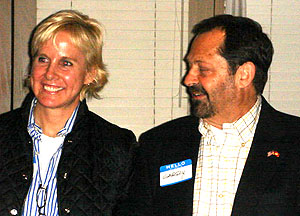 Nancy Yearsley and CEO Garry Spain, both of Yearsley Bloodstock Insurance, Ltd.
---
Stop by one of our regular events, and you may overhear conversations about the rising cost of hay and grain . . . mares who won't cycle . . . that mare who is nearly 12 months pregnant and still hasn't foaled . . . or perhaps some tactful bragging about the good-looking foal who was born last week.

It's just the Farm Managers group talking shop on their night out. It varies according to the season, but the ever-present theme is the challenge of keeping the Thoroughbreds healthy and happy.

The program may be a veterinarian with a video demonstrating surgical resectioning of a twisted intestine, or it may be a handicapping contest prior to one of the big race days like Breeders' Cup or California Cup. We do try to mix a little fun in with our educational and charitable activities.

This non-profit organization consists of managers, owner/managers, and "previous" managers of Thoroughbred farms, ranging from single-mare households to large commercial operations. Also, persons who share our goals and interests and are affiliated with the Thoroughbred industry are welcomed as associate (non-voting) members.

We seek to increase the productivity of our farms, along with the speed and soundness of our runners; to be good neighbors in our communities; and to protect the quality of life of the Thoroughbred.

Our efforts may be structured, such as our annual contributions to a variety of charitable and research groups that benefit the horse. Or it may be a small individual act such as supplying colostrum to a neighbor whose mare has no milk for her newborn foal . . . or helping a client find a good home for his ex-racehorse.

We welcome your participation!

---
Links to websites of featured speakers
at past CTFMA meetings:
Arravale Racing
Barretts Equine Limited
Business Infusions
Classic Silks
Equine Law Office of Bing Bush
International Law Group LLP
SoCal Equine Infrared
---
Click here for reports of earlier meetings