This section of the website features observations about the Thoroughbred racing and breeding industry written by Thoroughbred Information Agency (TIA) and www.thoroughbredinfo.com President Lisa Groothedde and Vice President Rudi Groothedde.

Blog entries dated prior to November 1, 2008 were written by TIA founder and former owner Don Engel, who established this website in 1997.

Do you have an opinion to share about this blog, or any other racing-related topic? We want to hear from you! Post your comments on our Facebook page, or join the discussion with us on Twitter.

APRIL 15, 2011
Win A Piece Of Racing History In Our 2011 California Freshman Sire Contest!
Across the country, the baby races have started up and Thoroughbred enthusiasts are getting their first glimpse at 2-year-old runners by several young stallions, which means it's time once again for our annual California Freshman Sire Contest!
Last year, we received an overwhelmingly positive response when we switched the majority of our prize offerings to racing memorabilia: items which were either unique in nature (such as an engraved halter worn by 2009 California Horse of the Year California Flag), or which had been autographed by some of horse racing's most prominent figures (such as a Zenyatta print which had been signed by her entire human team). So we have decided to return to the memorabilia theme again this year, and we are excited to offer a fun collection of prizes that any racing fan would be proud to own.
For our 2011 Don Engel Memorial California Freshman Sire Contest, which officially opens for entries today, we are giving away memorabilia items featuring the popular racehorses Evening Jewel, Secretariat, Sham and Zenyatta. We have also increased the purse for our Grand Prize from $150 to $250 for the person who can most accurately predict the order of finish among California's 2011 crop of freshman sires when progeny earnings are calculated at the end of the year.
The prizes we are offering in our 2011 contest are:
Grand Prize:
Our top winner will be the lucky recipient of a one-of-a-kind piece of racing history: an engraved leather halter worn by 2010 California Horse of the Year Evening Jewel.
This plucky filly ran nine times last year, and was always among the top three finishers while competing exclusively in graded stakes company. She captured Keeneland's Grade 1 Ashland Stakes on Polytrack and Del Mar's Grade 1 Del Mar Oaks on turf, won two additional Grade 2 races on turf, ran a heart-breaking second by a nose to subsequent Eclipse Champion 3-Year-Old Filly Blind Luck in Churchill Downs' Grade 1 Kentucky Oaks and finished third in the same track's Grade 1 Breeders' Cup Filly and Mare Sprint, the latter two races on dirt. In recognition of her outstanding versatility and tough campaign, the California-bred talent was named an Eclipse Award finalist and nabbed an ultimate honor as her home state's top racehorse of the year.
At the time of this writing, Evening Jewel has already won Santa Anita's 2011 Sunshine Millions Distaff Stakes on dirt, and has pushed her career earnings to $1,217,943, ranking the Northern Afleet filly as the sixth-highest California-bred female earner of all time and only $200,000 away from surpassing Moscow Burning as the richest distaffer in state-bred history. She also could make history this year as the first North American female racehorse to win a Grade 1 race on dirt, turf and synthetic surfaces, an accomplishment which would place her on par with her fellow Cal-bred Lava Man as the only Thoroughbreds to reach this incredible milestone.
Her beautiful halter has been generously donated to Thoroughbred Information Agency (TIA) by her owner, Marilyn Braly and her trainer, Jim Cassidy. We cannot thank them enough for supporting our contest with this rare collectible.
In addition to this champion's halter and some other related memorabilia, our 2011 Grand Prize winner will receive a one-year subscription to the national award-winning "California Thoroughbred" magazine (donated by California Thoroughbred Breeders Association) and a $250 cash prize from us at TIA!
Second-Place Prize:
Our second-place finisher in this year's contest will receive a memorabilia item that pairs the king and queen of Thoroughbred racing — Secretariat and Zenyatta — in one beautiful color print appropriately entitled "Racing Royalty." Not only does the artpiece, which was commissioned this year to commemorate Zenyatta as the inaugural winner of the Vox Populi Award, celebrate the two Eclipse Horses of the Year; it also rates as a rare collectible because of the racing luminaries who have personally autographed it: Secretariat's owner Penny Chenery and her daughter, author Kate Chenery Tweedy, have signed the print alongside Zenyatta's owners Jerry and Ann Moss, trainer John Shirreffs and racing manager Dottie Ingordo-Shirreffs.
Third-Place Prize:
The participant who finishes third in this year's contest will receive a wonderful new book about the hard-luck fan favorite Sham, who will be remembered throughout history as Secretariat's greatest rival. This prize, a hard-cover edition of "Sham: Great Was Second Best," has been autographed by author Phil Dandrea as well as Sham's rider during that memorable 1973 Triple Crown campaign: Racing Hall of Fame jockey Laffit Pincay Jr.
Participation in our 2011 California Freshman Sire Contest is absolutely free! We invite you to enter, and try your hand at predicting the year-end rankings of California's newest group of freshman stallions.
Entries are due by 11:59 p.m. (Pacific) on Saturday, April 30. Good luck!
Click here for complete information about
TIA's 2011 Don Engel Memorial California Freshman Sire Contest!
MARCH 8, 2011
Keith Card: A Life Well-Lived
I am sad to report the passing today of our friend Keith Card. He was 83, and a resident of Murrieta, California.

A proud Montana native and World War II veteran, Keith was kind-hearted, and civic-minded. In addition to his service as president of the California Thoroughbred Breeders Association (CTBA) in 2005, he was the chairman and former president of the California Thoroughbred Farm Managers Association (CTFMA), and quite possibly the latter organization's biggest cheerleader.
Through their cleverly named Hi Card Ranch, Keith and his lovely wife, Barbara, enjoyed great success with several runners, including 1990 California Cup Distaff winner Linda Card, 1993 Santa Monica Handicap (G1) winner Freedom Cry and 2009 Breeders' Cup Turf Sprint winner and California Horse of the Year California Flag. Last year, the Cards graciously donated California Flag's halter as the Grand Prize of our 2010 California Freshman Sire Contest.
Last September, the Cards were selected for a prestigious award by Thoroughbred Owners and Breeders Association (TOBA): National Small Breeder of the Year.
Keith was instrumental in the resurrection of the CTBA's California Hall of Fame in 2006, so it was appropriate that he was one of the esteemed group's 2011 inductees. He and Barbara were surrounded by several dozen family members and friends during the February 15 induction ceremony in San Diego, and it is at that event that we last were able to visit with him. He had been in poor health for awhile, but it was wonderful to witness his pure joy at the event which honored him.
"California Thoroughbred" magazine profiled Keith in its February 2011 issue. You can view the article online by clicking here.
He was a friendly man who loved his horses and his fellow horsemen and women, and his spirit of camaraderie and sportsmanship will be missed by all who knew him. Farewell and thank you for your many years of service to the industry, Keith.
JANUARY 26, 2011
Congratulations To Our 2010 California Freshman Sire Contest Winners!
Congratulations to Julie Kluesener, the Grand Prize winner of our 2010 Don Engel California Freshman Sire Contest!
From our record number of participants representing 21 different states, Julie was the only player to correctly guess four of the top five eligible California freshman sires of 2010 in exact order, based on year-end progeny results as compiled by "Thoroughbred Times." Her selections of Lucky Pulpit, Best Minister, Uncle Denny, Cindago and Fullbridled gave her a total of 23 contest points, making her the clear winner of our Grand Prize.
The top five California first-crop stallions of 2010 were Lucky Pulpit, Crown the King, Uncle Denny, Cindago and Fullbridled.
In addition to receiving $150 from Thoroughbred Information Agency, Julie is the new owner of a rare piece of racing memorabilia: an engraved leather halter worn by the 2009 Breeders' Cup Turf Sprint winner and California Horse of the Year, California Flag. Julie will also receive other California Flag mementos, as well as a one-year subscription to "California Thoroughbred" magazine as part of her Grand Prize package. Congratulations, Julie!
Our five contest winners are listed below, along with the prizes they will receive. The fourth-place and fifth-place finishers were determined by our tie-breaker rule of predicting the dollar amount of progeny earnings for the top-ranked California freshman sire, when nine different players scored 17 points each. The top sire, Lucky Pulpit, completed 2010 with $275,371 in progeny earnings.
Here are the final results:
Grand Prize Winner: Julie Kluesener, Indiana
Contest Points: 23
California Flag Package:
Engraved leather halter worn by 2009 Breeders' Cup Turf Sprint winner and California Horse of the Year California Flag, donated by owners/breeders Keith and Barbara Card

Certificate of authenticity for the halter, signed by trainer Brian Koriner

One 8" x 10" color photo of California Flag wearing the halter, signed by photographer Marcie Heacox

One copy of the March 2010 issue of "California Thoroughbred" magazine, featuring California Flag on the cover

A one-year subscription to "California Thoroughbred" magazine (12 issues, plus annual Stallion Directory)
Second-Place Prize Winner: Bill Baker, California
Contest Points: 20
Zenyatta Package:
One 16" x 20" Fred Stone print of 2010 Horse of the Year Zenyatta, signed by artist Fred Stone and the connections of Zenyatta: owners Jerry and Ann Moss, trainer John Shirreffs, jockey Mike Smith, exercise rider Steve Willard and groom Mario Espinoza
Third-Place Prize Winner: Vickie Aument, California
Contest Points: 18
Rachel Alexandra Package:
One 16" x 20" Fred Stone print of 2009 Horse of the Year Rachel Alexandra, signed by artist Fred Stone and jockey Calvin Borel
Fourth-Place Prize Winner: Rebecca Quarles, California
Contest Points: 17
"Thoroughbred Times" Package:
A one-year subscription to "Thoroughbred Times" magazine (52 issues, plus annual Stallion Directory)
Fifth-Place Prize Winner: Tammy Baxter, Idaho
Contest Points: 17
Barbara Livingston Package:
One copy of the hard-cover book "More Old Friends: Visits With My Favorite Thoroughbreds," signed by author and photographer Barbara Livingston
Thank you to everyone who participated in our 2010 contest. We will announce the details of our 2011 contest in March, and we hope you'll decide to play again!
A very special thanks to our prize donors: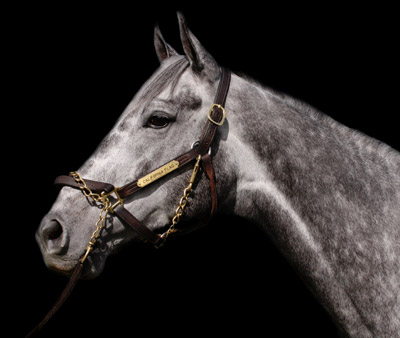 This engraved leather halter worn by 2009 Breeders' Cup Turf Sprint winner
and California Horse of the Year California Flag now belongs to our
Grand Prize winner: Julie Kluesener of Indiana!
JANUARY 16, 2011
My 2010 Eclipse Award votes go to...
The envelopes will be opened on Monday evening, and the newest collection of Eclipse Award winners will be revealed.

In the meantime, here are my choices for the 2010 Eclipse Awards, as submitted on my official voting ballot as a member of the National Turf Writers and Broadcasters. Good luck to all of this year's contenders!


2-Year-Old Colt/Gelding: Uncle Mo
Second Choice: Boys At Tosconova
Third Choice: To Honor and Serve
It's impossible to poke holes in an undefeated colt who romped in the Breeders' Cup Juvenile (G1), so Uncle Mo will likely be a unanimous choice among Eclipse voters. But I believe the dual Grade 2 winner To Honor and Serve is the best of this crop that we have seen to date.
2-Year-Old Filly: Awesome Feather
Second Choice: Turbulent Descent
Third Choice: Wickedly Perfect
From a humble 4 1/2-furlong maiden winner at Calder to an impressive Grade 1 winner at the end of her juvenile season — sounds awfully similar to my pick for last year's 2-year-old filly Eclipse, Blind Luck. Let's hope the undefeated Awesome Feather can overcome her physical setback and show us what she's really made of in 2011.
3-Year-Old Colt/Gelding: Twirling Candy
Second Choice: Lookin At Lucky
Third Choice: Sidney's Candy
This was a tougher category than I initially expected. Lookin At Lucky had an excellent year indeed, and it would have been easy to just circle his name and move on to my next decision. However, since he is a shoo-in to take home the trophy on Monday, I chose instead to give my vote to a horse that was not even listed in the past performances guide compiled by Daily Racing Form for Eclipse Awards voters.
In a truly breakout season, Twirling Candy won on three different surfaces (topped by a Grade 2 on turf and a Grade 1 on dirt), broke a sizzling, 30-year-old track record at Santa Anita and outran the Hollywood Gold Cup (G1) winner while finishing just a half-length behind the Breeders' Cup Dirt Mile (G1) winner in his first try against his elders. Unlike divisional leader Lookin At Lucky, who only won on dirt, Twirling Candy never lost to another 3-year-old. So I figured he earned at least one vote in exchange for all that effort.
I also tip my hat to my top pick's Candy Ride (Arg) cropmate, Sidney's Candy, who exhibited his own diversity with five — count 'em — FIVE graded stakes wins on dirt, turf and synthetic surfaces in 2010. I can understand the absence of Twirling Candy among the top vote-getters, since he might be familiar only to West Coast followers; but the fact that Sidney's Candy is not even an Eclipse finalist with a sterling record like his borders on absurd.
3-Year-Old Filly: Blind Luck
Second Choice: Evening Jewel
Third Choice: Switch

My choice for Champion 2-Year-Old Filly of 2009 chalked up another great season, and tops my all-California ballot for this exciting division. Meanwhile, poor Switch, like her stablemate Twirling Candy, was not even listed among the past performances in the voting guide, despite her gallant, half-length loss to the legendary Zenyatta in her Grade 1 debut against her elders, another runner-up effort in the all-ages Breeders' Cup Filly and Mare Sprint (G1) and her very own Grade 1 win at the end of the year. When will the powers-that-be finally wisen up and print the voting guide after December 31, in order to include Santa Anita's prestigious opening-week stakes extravaganza? It's a constant slap in the face to the West Coast, and it's way past time for this ridiculous procedure to be modified.
4-Year-Old & Up Male: Blame
Second Choice: Quality Road
Third Choice: Richard's Kid
When Blame powered his way to victory in the Grade 1 Stephen Foster Handicap at the 2010 Breeders' Cup host site back in June, I predicted to my husband that he would be the only likely trouble for Zenyatta in the Classic (G1) five months later. Sometimes I hate being right.
4-Year-Old & Up Female: Zenyatta
Second Choice: Life At Ten
Third Choice: Unrivaled Belle
Another year, another five Grade 1 trophies for the greatest mare of our lifetime. I was blessed to be there in person when four of them were handed out, and — as luck would have it — at her barn petting her on the very day her retirement was announced last November. The memories of spending time in Zenyatta's luminous presence for the past three years will always make me smile, long after the headlines have faded.
3-Year-Old & Up Male Sprinter: Majesticperfection
Second Choice: Big Drama
Third Choice: Smiling Tiger
Majesticperfection was a shooting star of a racehorse: his single six-race campaign in 2010 yielded five wins, including a Grade 1 race at Saratoga and a blistering, track record-setting performance at Prairie Meadows. He also defeated the Breeders' Cup Sprint (G1) winner, Big Drama, in their only meeting.
3-Year-Old & Up Female Sprinter: Dubai Majesty
Second Choice: Switch
Third Choice: Franny Freud
It was a mixed bag for Dubai Majesty in 2010, but she came through when it counted the most, posting her only career Grade 1 win on the worldwide Breeders' Cup stage. She was also a stakes winner on dirt, turf and synthetic surfaces last year, a feat which I like to reward.
3-Year-Old & Up Male Turf Horse: Gio Ponti
Second Choice: Winchester
Third Choice: Paddy O'Prado
Well, it didn't quite match the exploits of his outstanding 2009 campaign, but the multi-millionaire Gio Ponti deserves his third Eclipse Award for running first or second in all of his turf starts last year, including five straight Grade 1 grass attempts. Luckily, his owners have decided to bring him back at 6, instead of sending him to the breeding shed.
3-Year-Old & Up Female Turf Horse: Tuscan Evening (Ire)
Second Choice: Proviso (GB)
Third Choice: Goldikova (Ire)
Six consecutive victories in graded stakes company, from the distances of 6 1/2 furlongs to 1 1 /4 miles. And all of that was accomplished before Tuscan Evening's sudden death while training in August. We are sadly left to wonder what might have been.
4-Year-Old & Up Steeplechase: Abstain
I have not watched a steeplechase race in years; not my cup of tea. I'd rather let others decide this one.
Trainer: John Shirreffs
Second Choice: Todd Pletcher
Third Choice: Jerry Hollendorfer
In anyone else's hands, Zenyatta would not have been the nurtured, near-perfect racehorse she ultimately became. For his husbandry, his humility and for the unprecedented access he granted media members and everyday fans alike to his horse of a lifetime, John Shirreffs is a clear choice among his peers.
Jockey: Mike Smith
Second Choice: Ramon Dominguez
Third Choice: Joel Rosario
My heart broke for Mike Smith when he couldn't get Zenyatta home first in the Breeders' Cup Classic, after the 16 flawless rides he had given her leading up to that final, fateful race. I'm pretty sure his heart broke even more.
Apprentice Jockey: Abstain
Congratulations to the winner of this category, which I refrained from judging.
Owners: Jerry and Ann Moss
Second Choice: WinStar Farm
Third Choice: Wertheimer and Frere
Wouldn't it be awesome if Sting showed up at the Eclipse Awards ceremony to personally hand the 2010 owners' award to his old boss, and then serenaded the room with an acoustic rendition of "Every Little Thing She Does Is Magic" to announce the Horse of the Year award was going to Zenyatta? Eh well, a girl can dream.
Breeder: Maverick Productions, Limited
Second Choice: Sidney and Jenny Craig
Third Choice: Edward P. Evans
In case you haven't noticed the trend, I decided to "go rogue" and vote all-Zenyatta in my human awards this year (Breeder, Owners, Trainer, Jockey). It's a first (and likely, last) for me to offer such blanket recognition, but I'm proud to do so in honor of her team's graciousness, generosity and sportsmanship. Oh yeah, and Maverick bred North America's only five-time Grade 1 winner of 2010, so there's that little tidbit too.
Horse of the Year: Zenyatta
Second Choice: Blind Luck
Third Choice: Blame
Will the irreplaceable Zenyatta be third-time lucky? I have my doubts. But what I have absolutely no doubts about is the fact that she is the greatest horse I have ever seen, and I am privileged to give her my Horse of the Year vote for the third year in a row. She traveled to more tracks, won more Grade 1 races, competed on more surfaces, carried more weight and most certainly attracted more newcomers and national attention to our sport than her chief rival for this ultimate award, yet I can't begrudge Blame if he does get the Horse of the Year trophy. He did, after all, manage to keep his head in front at the conclusion of their only meeting. But make no mistake about it, Zenyatta was the best horse in that race, and in all of 2010 — much as she was in 2008 and 2009 as well.
DECEMBER 21, 2010
An Early Christmas Gift From Team Zenyatta
Yesterday, after two weeks of getting acclimated to her new home in a broodmare barn at Lane's End in Kentucky, the dual Eclipse Award champion Zenyatta was allowed to run free in her paddock for the first time since her retirement last month. She was surrounded by familiar faces, as her owners, trainer, racetrack groom and others associated with the 6-year-old Street Cry (Ire) mare flew in from California to share the special moment.

Here is
a beautifully edited video of this once-in-a-lifetime turnout session, courtesy of "The Blood-Horse."
Only a Scrooge's heart would not be melted by the sights and sounds of this majestic creature tasting pure freedom for the first time in many years — bucking, squealing and running across the snow with her tail held high — or the image of her now-faraway best friend, Mario Espinoza, proudly walking his girl after her wintry romp.
DECEMBER 13, 2010
In Fond Memory Of TIA Founder Don Engel
To those of you who are familiar with the history of Thoroughbred Information Agency (TIA) and www.thoroughbredinfo.com, there is no easy way to announce the heart-breaking news I received over the weekend that the founder of this company and website, Don Engel, has passed away.
Following is a letter I received from his daughter, Lisa, who asked that I share it with you:
"To all of you in the California Thoroughbred industry, I must sadly inform you that my father, Don Engel, and his wife of 41 years, Jean Engel, decided on December 6th to say goodbye to this world. They were both 85 years old.
As you have all seen though his postings and writings, Don Engel was someone with conviction of opinion. His honesty and integrity were beyond dispute. His astute observations and dry wit combined with his trademark style of writing made his articles and commentaries both a source of information and advice, and a source of debate.
You can see from my father's postings in "Voices" that even in his "submarine of retirement," as he put it, he still kept up with the current events of the industry to which he had devoted his life and energies. He loved the Thoroughbred industry, suffered along with it the downturns, and cheered the bright spots. He challenged paradigms and offered well-considered solutions to problems. I am sure that not everyone agreed with him all the time, and he undoubtedly ruffled a few feathers along the way, but he was unwavering in his genuine concern for the survival and welfare of the Thoroughbred industry.
I hope those of you who knew Don Engel will take a moment to hold him in your thoughts and wish him a good journey onward. He will be missed. I think it is safe to say that he was one of a kind." — Lisa Engel Belhage, Espergaerde, Denmark
---
It is hard to put into words the tremendous sense of loss this leaves behind. Professionally, it was always a comfort to know that Don was just an email message away to offer his advice on any issue regarding TIA and this website. He graciously gave his time to me on many occasions since I took over the company and website upon his retirement in November 2008. Personally, I will miss our conversations about Thoroughbreds, the important issues facing our industry and our other common interest of tennis, as well as the many stories he shared with all of us about the rich history of horse racing in California.
Don was humbled, and surprised, to learn that my husband and I were interested in purchasing and continuing TIA and www.thoroughbredinfo.com when he suddenly announced his retirement more than two years ago. He had originally planned to just shut everything down, to issue refunds to his existing Showcase clients and to cancel the website and let its domain name simply expire when he finally decided, at the age of 83, that he had worked long and hard enough. He just couldn't believe that anyone would want to be burdened with the business he had built, especially during such an economic downturn, and he was sincerely flattered by our interest. I'd like to think that he was happy in the knowledge that the company and website he had established so long ago would continue to thrive and move into different directions under new ownership. He knew we would take care of his baby, and he trusted us with it.
Goodbye, Don. And thank you.
To read about the history of TIA and this website, visit our "About Us" page. To learn more about Don, read this profile about him that was published in the December 2008 issue of "California Thoroughbred." Or, reminisce through our archives by using the guide at the bottom of this page to read Don's own thoughts on the issues he wrote passionately about prior to his retirement two years ago.
Finally, if you would like to offer a public message of condolence to Don's family, you are welcome to submit a letter for our "Voices" public forum, where your words and memories of him and Jean will be seen and, undoubtedly, appreciated by those closest to them.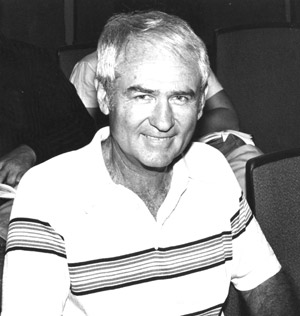 Thoroughbred Information Agency Founder Don Engel (1925-2010)
NOVEMBER 27, 2010
Win Free Tickets To Zenyatta Appreciation Day At Hollywood Park!
Do you consider yourself a Zenyatta expert? Would you like to help give her a rousing send-off
at her retirement party next week?
If the answer to both of these questions is "Yes!," then here's your chance to win a pair of
FREE CLUBHOUSE PASSES to Zenyatta Appreciation Day at Hollywood Park on Sunday, December 5!
Starting at 2 p.m. Pacific today (Saturday, November 27), we will post five trivia questions about the dual Eclipse Award champion on our Thoroughbred Information Agency Facebook page. The first person to correctly answer each question by responding on our Facebook page will receive a pair of free tickets to this not-to-be-missed event. We will keep each question open until we have a winner for that category.
Each winner will be allowed one pair of tickets; participation is limited to U.S. residents only.
Zenyatta has always, ALWAYS, been there for us. Now let's all be there for her as we say a grateful thank you, and a heartfelt goodbye, to one of the greatest horses to ever race in California. I hope to see a full grandstand bathed in pink and teal next Sunday!
Thank you to our friends at Hollywood Park for this opportunity. And good luck to all Zenyatta trivia buffs!
NOVEMBER 5, 2010
2010 Breeders' Cup Host Site: Two Deaths, Three Days
Did you hear about it? In between the Zenyatta hysteria and "finally, back to real dirt!" handicapping hype leading up to today's Breeders' Cup World Championships at Churchill Downs?
Of course you didn't hear about it. That would be bad P.R. But if two fatal accidents had occurred at last year's Breeders' Cup host site in the days leading up to the big event, you can bet you would have.
Churchill Downs, which later today will present the first of two Breeders' Cup cards, opened its 2010 fall meet last Sunday, with its annual "Stars of Tomorrow" program featuring all 2-year-olds. Sadly, one young contender did not finish her race: the Bluegrass Cat filly Blueveau, who was euthanized after she broke down while carrying jockey Calvin Borel during a one-mile maiden special weight test on the dirt.
The Churchill Downs turf course, which has drawn criticism from the connections of the favored European shippers Workforce (GB) and Midday (GB) due to its hard composition, was the site of another fatal breakdown on Thursday, day three of the track's new meet. This time, jockey Garrett Gomez was sent to the hospital after his mount, the 3-year-old A.P. Indy filly Indy Bouquet, suffered a compound fracture of her left front cannon bone during a one-mile grass event for maidens.
In 2008 and 2009, the Oak Tree Racing Association hosted two wildly successful — and injury-free — editions of the Breeders' Cup on Santa Anita Park's synthetic Pro-Ride surface and natural turf course. In fact, the back-to-back Southern California editions marked the first time since 2004 that no participants suffered a fatal injury during a Breeders' Cup race. During Churchill's last hosting gig, in 2006, both Pine Island and Fleet Indian were pulled up during the Distaff (G1); only Fleet Indian survived.
Why is it that everything that happens in California is examined under the constant glare of the racing media microscope, yet two deaths at Churchill Downs within mere days of the track hosting some of the world's most valuable horses do not draw the same raised eyebrows?
I'll leave my accusations of East Coast bias and the ridiculous, ongoing anti-synthetic crusade for another blog. In the meantime, let us all hope that these two recent breakdowns were isolated incidents, and that Churchill Downs can report the same 100% safety record for its Breeders' Cup versions 2010 and 2011 that our own Oak Tree thankfully did in 2008 and 2009.
Update / November 6, 2010:

Sadly, there was indeed a fatality today during the 2010 Breeders' Cup at Churchill Downs. The Mizzen Mast colt Rough Sailing slipped and fell onto the course during the Breeders' Cup Juvenile Turf (G2) and was subsequently euthanized due to a fractured humerus.
OCTOBER 25, 2010
Lock Up Your Feed Bins! Lava Man Is On The Loose At Hollywood Park.
Recent video captured at Hollywood Park caught the retired two-time California Horse of the Year Lava Man wandering loose on the backstretch. But don't worry; the seven-time Grade 1 winner didn't get very far, thanks to his healthy appetite.
It's gratifying to see this old warrior enjoying his new life as a stable pony in the barn of trainer Doug O'Neill, and to realize that he still commands his fair share of visitors, including ESPN horse racing reporter Jeannine Edwards, who is shown in the video.
SEPTEMBER 11, 2010
Even The Queen Of Racing Started Life As A Princess
This fun little videoclip was brought to our attention by our friend Gayle Clark of Hollywood Park. Can anyone guess who this noisy filly in the auction ring is?
Hint #1: She is based in California.
Hint #2: She is undefeated in 18 starts, including the Breeders' Cup Classic (G1).
Hint #3: She has earned more than 100 times her purchase price as a yearling (as well as the most money by any North American distaffer in history: $6,254,580)!

I sure wonder who that underbidder was, the poor sod.
AUGUST 10, 2010
The Highest Of Highs, And The Lowest Of Lows
Is there any other sport ­— for that matter, is there any other life activity — that is simultaneously as thrilling and heartbreaking as Thoroughbred racing? Those who live and breathe our industry on a daily basis know all too well that it regularly takes its participants on a rollercoaster ride of experiences, from the highest of highs to the lowest of lows. Perhaps that adrenaline rush of never really knowing what the next turn will bring is what keeps us coming back for more, despite the heavy emotional price we often have to pay.
This very principle was embodied last weekend by the activities of four Southern California racemares, whose individual journeys were altered forever by fate. Two coasted to the top, while two plummeted to their deaths.
On Saturday, August 7, I was one of more than 32,000 devoted fans who were on hand at Del Mar to applaud the 18th consecutive victory by the incredible Zenyatta, an undefeated champion who has never, God willing, taken a bad step on the racetrack. Her legend continued its ascent with her narrow win in the Grade 1 Clement Hirsch, and even more so with her crowd-pleasing antics both before and after the race. She simply remains, in more ways than one, unbeatable.
But, destiny came calling at Del Mar, and it was time once again for one day's euphoria to turn into another day's despair. On Sunday morning came the shocking news that the charismatic Tuscan Evening (Ire), a 5-year-old mare who outran every rival that faced her in her six consecutive graded stakes starts this year, had dropped dead of an apparent heart attack after working on the track's turf course, not far from where Zenyatta had thrilled so many of us just the evening before. The sudden loss of this millionaire runner, who was owned by our friend Will De Burgh and whose best days were seemingly still in front of her, is unspeakably tragic.
I will leave the subject of these two magnificent mares to the many other journalists and bloggers who will, no doubt, reminisce about their individual accomplishments at great length in the coming days. I would rather devote my little corner of space on the internet to another soul who was lost last weekend in no less Shakespearean a tragedy.
On Friday evening, August 6, leading California trainer Doug O'Neill unveiled a promising new star in Wickedly Perfect, the upset winner of Del Mar's $150,000 Sorrento Stakes (G3) for 2-year-old fillies. But as the trainer and his entourage were gathering in the winner's circle for a group celebration, another, less-heralded runner from his vast stable was being prepared for what would be her final race just an hour later.
Eighty-four miles north of the splashy seaside track, California-bred Burna Dette was tacked up at Los Alamitos Race Course for a start in unfamiliar territory: she would be racing at a track at which she had never competed, at a distance at which she had never tried, on a surface on which she had never run and at a paltry level at which she had never been offered. The 5-year-old mare had been plucked from a $25,000 claiming race at Hollywood Park by Doug O'Neill and owner Gregg Guiol on June 24, and had made just one public appearance during the interim for her new connections: a tiring sixth in a $16,000 claiming race at Del Mar on July 21, opening day of the track's 2010 meet.
Burna Dette caught my attention among the Los Alamitos entries for two reasons. As an offspring of the TIA Showcase Stallion Unusual Heat, her race record is tracked for this website. Also, I tend to keep my eyes out for potential broodmare prospects among the claiming ranks; as a multiple winner and $136,000-plus earner by California's leading sire, she fit the basic profile. But even I was surprised when she suddenly appeared for the low-level tag of $2,000 at Los Alamitos, just 16 days after she had been deemed worthy enough to appear on the opening-day card at Del Mar.
I was not the only one to notice her. Her breeders, Jeff and Suzi Stiefel, later said they had put in a claim for her that night, in an attempt to get her back home. Also dropping a claim slip was owner Thomas Granstrom and his trainer, Vod Farris. A glimpse at her past performances revealed that Burna Dette towered over the $2,000 claiming field as the sole six-figure earner among the 10 starters, but she would obviously come at some risk for that bottom-barrel price. In addition to the precipitous drop in class, she had not posted a single work during the six weeks she had been campaigned by the connections who had sent her from Del Mar to Los Alamitos.
By now, you can guess how her story ends. After trailing the field through the early stages of the 4 1/2-furlong race, Burna Dette suddenly broke down in a heap midway through the turn, taking jockey Cesar DeAlba to the dirt with her. The 20-time starter, whose ownership had changed to Thomas Granstrom when the starting gate opened, suffered a catastrophic injury to her left fore cannon bone and was euthanized, according to a veterinary official.
The televised death of this everyday racehorse, who just last year had shown promise by running fourth in a Cal-bred stakes race and third to Tuscan Evening in a Santa Anita allowance, has sparked heated conversations in several racing-related websites across the internet, such as Thoroughbred Champions, Pace Advantage and the Del Mar fan forum. Outraged handicappers and horse lovers alike are raising serious questions about how hard this sport can be on its athletes, and how a good racemare who had exhibited several red-flag warnings prior to her passing ended up in such a sad, and avoidable, situation.
As for me, I don't have the answers to these questions. I just know that two horses won, and two horses were lost, and that rollercoaster keeps on hurtling along.
JULY 15, 2010
Thoroughbred Buyers Not Ready To Pull 'The Trigger' Just Yet…
Question:
How do you know when the commercial bloodstock industry is in deep trouble?
Answer:
When the top-selling horse at the year's first elite yearling sale commands $450,000 — one day before a horse who has been dead for 45 years commands $266,500, and his saddle elicits an additional $386,500.
Seems it's not quite "Happy Trails" for the racing industry these days, is it?
JUNE 22, 2010
How About An Adena Springs West, Mr. Stronach?
Wouldn't it be a lovely surprise if Frank Stronach's big announcement at today's California Horse Racing Board (CHRB) meeting is that he has decided to seek his goal of "free enterprise" by investing in the state's Thoroughbred industry at its most basic level? What a testimony to his convictions it would be if the Canadian mogul were to announce the upcoming addition of an Adena Springs West — a California-based sister operation to his multiple Eclipse Award-winning Adena Springs farm in Kentucky, his Adena Springs South in Florida and his Adena Springs North in Canada.
Conveniently enough, there are two rather large, turnkey Thoroughbred farms which would fill the bill for his expansion to California: Jenny Craig's Rancho Paseana by Del Mar and Marty and Pam Wygod's River Edge Farm in Buellton, both of which were recently adorned with "For Sale" signs. Wouldn't either of those farms serve as a perfect setting for him to breed and raise Cal-breds? After all, someone is going to have to provide the future fields of runners if Stronach, as anticipated, demands an expanded live racing calendar at his Santa Anita Park smack-dab in the midst of our state's largest horse shortage in memory. If this year's official breeding numbers are as low as many predict, that shortage is only going to get worse in the near future. 
But back to the concept of an Adena Springs West. Perhaps CHRB member Jerry Moss would be so appreciative of Stronach's announcement that he would reciprocate by announcing that either his 2005 Kentucky Derby (G1) winner, Giacomo, or his 2007 Santa Anita Derby (G1) winner, Tiago, would relocate from Adena Springs in Kentucky to stand at the new California farm. These successful half-siblings are more than a little familiar to those who breed and race here, after all, and they would certainly be well-supported as stallions.
Talk about an economic recovery plan for California!
I realize that these fictional announcements are just a product of wishful thinking, and that today's meeting will instead become a verbal slugfest of epic proportions, as each representative of the state's dwindling Thoroughbred industry fights for their ever-shrinking piece of the financial pie. But I can dream, can't I?
For those who want to listen to a live internet broadcast of today's CHRB meeting, and all of its anticipated fireworks, click on the "Webcasts" link on the CHRB website. The smackdown — err, meeting — is scheduled to begin at 9:30 a.m. at Hollywood Park, another historical racetrack which already has a pending date with the wrecking ball. Ah, the irony.
JUNE 5, 2010
CHEERS & JEERS For The Week Of May 31
CHEERS!
To: The Jockey Club
For: Doling out proper punishment for animal abuse
Kudos to the board of stewards of the official breed registry for taking a stand against abuse by voting on June 4 to deny American Stud Book privileges to a trio of Californians who were recently convicted of felony animal cruelty.
The threesome — Joan, Ernie and Cecelia Bor — operated the 21-acre Cochema Ranch in Ventura County, and were each sentenced to six-month jail terms and five years' probation after 55 malnourished horses were discovered on their property. The decision by The Jockey Club prevents each of them from registering Thoroughbred foals, and is an appropriate form of punishment.
It will be interesting to see if The Jockey Club board now votes to levy the same punishment against prominent Thoroughbred owner Ernie Paragallo, who last month was sentenced to a two-year jail term and fined more than $30,000 due to the deplorable conditions of several dozen horses who were discovered during a 2009 raid on his 500-acre Center Brook Farm in New York.
One of Paragallo's richest assets is his partial ownership in the leading Kentucky sire Unbridled's Song. Will those foals, who obviously carry some commercial cache based on the stallion's published $100,000 fee and strong record in the auction ring, be denied registration by The Jockey Club as well?
JEERS!
To: New York Racing Association
For: Trading a classic treasure for modern trash
"On the avenue, there ain't never a curfew

Ladies work so hard

Such a melting pot on the corner selling rock"
Ahhh. Nothing quite captures the glorious moment of a dozen glistening Thoroughbreds stepping foot onto the racetrack for the 142nd running of an American classic than heartwarming lyrics about prostitutes and drug dealers on the mean streets of New York City. At least, that is what the New York Racing Association (NYRA) decided, when it unceremoniously dumped the crowd-pleasing Frank Sinatra sing-along "New York, New York" in favor of the recent radio hit "Empire State of Mind" as the musical accompaniment for the post parade of today's Belmont Stakes (G1).
Even if you're a fan of the modern song, however, don't get too excited. Song originator and rap icon Jay-Z will not be there in person to sing it. Unfortunately, neither will Grammy winner Alicia Keys, who accompanied Jay-Z on the R-rated original and then released her own version of the song with "tamer" lyrics, as quoted above. Nope, instead of these mega-stars, this year's Belmont colts will be serenaded by the vocal stylings of a 16-year-old Disney Channel actress named Jasmine Villegas (who??). You see, Disney is the parent company of ABC, which is broadcasting the race. Gee, what a coincidence.
It must also be a coincidence, then, that Jay-Z will be reaping royalties galore when the song he penned is played in front of a live Belmont Park audience of 50,000-60,000, plus a network television audience in the millions. Until a few months ago, Jay-Z was a partner in the controversial AEG attempt to operate a casino at NYRA's Aqueduct property. Perhaps this last-minute song switch is NYRA's way of thanking him for his interest in coming to their financial aid.
I suppose, in the end, NYRA is kicking Ol' Blue Eyes to the curb in order to attract a younger crowd to racing. So, how is this younger crowd accepting the invitation? By ridiculing us. In fact, youth magnet MTV even stereotypes horse racing participants as smelly "old dudes in satin jackets" in their official announcement of the Jay-Z marketing coup. Gee, thanks, kids!
With all of the turmoil suffocating the New York racing industry, THIS is what they choose to focus their efforts on? It reminds me of the hapless band playing on while the Titanic was sinking underneath them. Only the band, in this case, consists of an unknown teenager waxing poetic about lowlifes while all the Belmont regulars will be looking on and thinking, "Huh? What happened to Frank?". Certainly the most offensive lyrics, at least, will be edited or removed for broadcast…right?
Oh, and another jeer to NYRA for censoring all negative comments about the song switch from their Facebook "fan" page. Way to listen to feedback and show the racing community that you really care about their opinions, guys!
MAY 18, 2010
First No Oak Tree, And Now No Ron Charles? What Is Going On At Santa Anita???
What a bizarre, upsetting five days it has been for the California racing industry.
First came the shocking news from Santa Anita Park last Friday that the Frank Stronach-led MI Developments was cancelling the 40-year lease held by the Oak Tree Racing Association, a not-for-profit organization which hosts its annual boutique meet every autumn at the Arcadia track, and which has raised millions of dollars for equine-related charities in addition to hosting two wildly successful editions of the Breeders' Cup World Championships in 2008 and 2009. The announcement that Oak Tree has been unceremoniously dumped from the grounds of Santa Anita came just a few weeks after the Oak Tree lease had been approved to continue through 2016.
Then, another mysterious breaking news item hit this morning: Ron Charles is resigning as president of Santa Anita Park, a position in which he has served with distinction since 2005. Ron Charles is not an empty suit, the likes of whom clutter countless gilded offices in corporations such as MI Developments; instead, he is a man of the people who can always, ALWAYS be found mingling with the crowd in the Santa Anita grandstand, or representing his racetrack at numerous industry, legislative and community functions.
What do these latest developments mean? Is Frank Stronach making a major power play to host all of the available racing dates in Southern California, under the guise of "free enterprise" (his latest catchphrase, not mine)? What about the Breeders' Cup, which has targeted Oak Tree as the early favorite to serve as its permanent host? Or how about the racing surface at Santa Anita: will it remain Pro-Ride, or will it be switched to dirt or another engineered material? And where exactly does this leave the year-round Santa Anita/Hollywood Park/Del Mar/Fairplex racing circuit? The answers remain to be seen, but the potential fall-out from this pair of recent announcements is downright frightening.
Keep an eye on the "Western Newsbeat" section of our website for the latest articles about these ongoing developments.
APRIL 26, 2010
The Race Is On! Entries Are Way Up For Our 2010 California Freshman Sire Contest.
All bets are down, the starting gate has clanged open…and they're off! Our 2010 Don Engel California Freshman Sire Contest is officially underway.
Thank you to everyone who submitted an entry form by the April 20 deadline! And thank you also for spreading the word to your friends.
Now that the entries have been tabulated, we are excited to report that our 2010 contest attracted nearly double the amount of participants who played in 2009. But look out, newcomers! All five of our top prize winners from 2009 have returned this year, and each of them is looking to repeat.
We are also thrilled to announce that we have participants representing 21 different states this year: Arizona, California, Colorado, Connecticut, Idaho, Illinois, Indiana, Kansas, Kentucky, Massachusetts, Michigan, Minnesota, New Jersey, New York, Oregon, Pennsylvania, Tennessee, Texas, Virginia, Washington and West Virginia.
Among the contest selections, there is clearly a two-horse race at the top. The most popular choice to be California's leading first-crop sire of 2010 is Lucky Pulpit, with nearly half of all entrants picking him for their #1 spot. The second-most popular pick is Uncle Denny, with more than one-quarter of all entrants listing him as their first selection. Also receiving several top nods are Best Minister, Cindago and Del Mar Show. But if you don't have one of these stallions ranked first on your entry form, don't panic — we've got a long year ahead, and history has shown that anything can happen.
Good luck to all of our participants! It is certainly going to be hard to part with the fantastic California Flag halter that is temporarily hanging on our wall, but it is going to go home with one of you after the contest results are tabulated in January, as will the rest of our unique prizes.
Please stay tuned to Thoroughbred Info for Freshman Sire Contest updates throughout the year.
APRIL 6, 2010
Win A Piece Of Racing History In Our 2010 California Freshman Sire Contest!
Like many serious fans of Thoroughbred racing, my husband and I enjoy collecting unique items associated with our sport. Among our most prized possessions are halters worn by both my favorite horse (Medaglia d'Oro) and his favorite horse (Wolf Power-SAf), flowers from the two winning Breeders' Cup blankets worn by Zenyatta (as well as a piece of Santa Anita's Pro-Ride track she won the Classic on in 2009) and a neat little book put together by recent Academy Award winner Jeff Bridges, whose hobby is to take behind-the-scenes photographs of his fellow actors and crewmembers on film sets and publish them as parting gifts to his co-workers after each film wraps. Mr. Bridges himself gave my husband an extremely limited copy of his "Seabiscuit" photography book when he was promoting the Santa Anita-based film in 2003, and this special keepsake — as well as the two stallion halters and Zenyatta's dried yellow flowers — would probably be among the first things I would grab if we ever had a house fire.
We realize we are far from alone in our avid collection of horse racing memorabilia. In light of this fact, we have decided to try something fun and totally different with our 2010 Don Engel California Freshman Sire Contest, which officially opens for entries today. This year, in addition to our regular cash prizes, we are giving away free subscriptions to two popular industry publications, a beautiful coffee-table book and several fantastic items associated with some of the most successful Thoroughbreds in modern history.
Among the prizes we are offering in our 2010 contest are:
Grand Prize:
Our top winner will be the lucky recipient of a one-of-a-kind piece of racing history: an engraved leather halter worn by 2009 Breeders' Cup Turf Sprint winner and California Horse of the Year California Flag, which has been generously donated by his owners and breeders, Keith and Barbara Card! California Flag is a millionaire and record-holder on Santa Anita Park's downhill turf course, and recently ran a close third while representing the U.S. in the $1 million Al Quoz Sprint (UAE-G3) at Meydan Racecourse in Dubai after he competed admirably in the Cathay Pacific Hong Kong Sprint (HK-G1) at Sha Tin last December.

In addition to this champion's well-worn halter and some other California Flag memorabilia, our 2010 Grand Prize winner will receive a one-year subscription to the award-winning "California Thoroughbred" magazine (donated by California Thoroughbred Breeders Association) and a $150 cash prize from us at Thoroughbred Information Agency (TIA)!
Second-Place Prize:
I know this one will be popular! Our second-place finisher in the contest will receive a beautiful color print of 2009 Breeders' Cup Classic (G1) winner Zenyatta, autographed by artist Fred Stone and all of the members of this undefeated, dual Eclipse Award winner's likable team: owners Jerry and Ann Moss, trainer John Shirreffs, jockey Mike Smith, exercise rider Steve Willard and groom Mario Espinoza.

Plus $100 from TIA!
Third-Place Prize:
Fred Stone's color print of 2009 Horse of the Year Rachel Alexandra, autographed by the artist and jockey Calvin Borel, who rode the filly to a perfect eight-race season last year.

Plus $50 from TIA!
Fourth-Place Prize:
Fifth-Place Prize:

Participation in our Freshman Sire Contest is absolutely free! We invite you to enter, and try your hand at predicting the year-end rankings of California's 2010 group of freshman stallions.
Entries are due by 5 p.m. (Pacific) on Tuesday, April 20. Good luck!
Click here for complete information about TIA's 2010 Don Engel California Freshman Sire Contest.
MARCH 2, 2010
Stronach And Schwarzenegger: Shouldn't The Ties Bind?
I have a dumb question.
Frank Stronach is from Austria. Arnold Schwarzenegger is from Austria. What are the odds that this faraway country, which has less than 25% the population of California, has produced the two men who hold the most influence over the California racing industry at this critical point in our history? (Some might even say they are each holding our local racing industry hostage in different ways.)
Has Mr. Stronach ever used those unique homeland ties from Mother Austria to lobby Governor Schwarzenegger for pro-industry legislation? To invite the mega-celebrity and his family for a first-class racing experience at his Santa Anita, starting with an informative Seabiscuit tram tour of the backside, leading into a casual breakfast among the colorful horsemen assembled at Clocker's Corner, then an afternoon of watching quality racing from the elegant Director's Room, followed possibly by dinner at Arcadia's historic Derby restaurant?
How about a behind-the-scenes tour of one of our beautiful California breeding farms, where all the hard work and preparation of getting a horse to the races actually begins? Let the governor see for himself the majesty of a Thoroughbred stallion, the tranquility of mares grazing in pastures and the irresistible charm of foals romping at play. Let him shake hands with the grooms, the office workers, the farm managers, the maintenance crew.
Experiences such as these would give our state's top elected leader valuable first-hand knowledge of how many thousands of Californians are employed within our industry, and how deeply its roots run in the Golden State.
If Mr. Stronach has not extended such an invitation, why not? It seems a natural fit on the surface.
Perhaps if this happened, Mr. Schwarzenegger would not be publicly booed whenever he does show up at a major racing event, due to his destructive policies which, to date, have severely restricted California horsemen from competing fairly with the state's tribal-owned casinos.
Slots at Santa Anita: now that would be a "free enterprise" goal worthy of attaining, Mr. Stronach!
JANUARY 30, 2010
Sunshine Millions: A Losing Bet For California?
Nobody likes to back a perpetual loser. Just ask the downtrodden fans of the lowly Los Angeles Clippers, the hapless Pittsburgh Pirates or the infamous 0-16 Detroit Lions. But apparently I am a glutton for punishment, because I'll be back at Santa Anita today, cheering on my California-breds despite the depressing knowledge that my team will almost certainly be the losing one — for the eighth year in a row.
By its very concept, Sunshine Millions is a winner. You take two Magna tracks, one on each coast, and host an eight-race, head-to-head battle for bragging rights, California-breds versus Florida-breds. You throw in $3.6 million in total purses, a music concert in the infield, a few prancing bikini girls in between races, and voila! You've got yourself a ready-made event that highlights the annual racing calendar (and usually the gorgeous winter weather) at both host sites, Santa Anita Park and Gulfstream Park.
The 2010 Sunshine Millions event had to be trimmed to six races valued at a cumulative $1.8 million in order to be given the green light, and that's certainly understandable in the current economy. Because it's generally a fun and well-attended event, we should be glad it's being held at all this year. However, reviewing the black-and-white results of the seven previous editions of Sunshine Millions, some serious questions need to be asked about its relevancy.
Does the Sunshine Millions program encourage the breeding of California-breds? Does it enhance the value of Cal-breds at auction? Does it make any difference to the average racing fan or handicapper if the on-track entertainment is a state-versus-state competition?
I don't have the answer to those questions. But I can predict with near-certainty that, later today, California will yet again come out on the losing end of Sunshine Millions. It's not that Cal-breds are inferior to their East Coast rivals; that is hardly the case. Instead, it is simple logistics that will always prevent the Golden State from shining the brightest on this special day that should be a public relations bonanza and boost for the winning state's breeding program.
Points are scored in each of the designated races based on the following scale: 5 points for a win, 3 points for second and 1 point for third. Yet, while many Florida-breds train and compete year-round in the still-lucrative California racing program, very few California-breds call Florida home, meaning our state colorbearers have to ship clear across the country to participate in this one-day event. In 2009, we had only six Cal-bred starters in Florida; this year, we are down to just a single Cal-bred starter (the 20-1 claimer Tie Rod, bless him) among the 27 Sunshine Millions entries at Gulfstream Park. Here at home, we are, surprisingly, also at a disadvantage, with 15 Cal-breds entered against 17 Florida-breds at Santa Anita.
Applying a calculator to it, Florida is guaranteed to sweep two of the Gulfstream races (18 points) and finish at least second and third (another 4 points) in the other race before the starting gate even opens. California is heading into today's competition down by at least 22 points. That's a heck of a headstart to overcome, since the maximum points California-breds can earn here at home is 27, and that is only if they manage to sweep all three local races despite having fewer starters.
This numbers disadvantage has been a direct cause of California's woes. From the 56 bicoastal races conducted in the Sunshine Millions series since its inception in 2003, California-breds have won only 18, or less than one-third, of those races. They have been outscored by a grand total of 333 points to 171 points, for a losing margin of nearly two to one. I don't even want to know the amount of purse money that has been taken by Florida-bred owners in this $25 million-plus experiment, but it has most certainly been the lion's share.
2003-2009 Sunshine Millions Results (8 races per year)
2003: Florida wins event 56-16 / 1 Cal-bred winner
2004: Florida wins event 45-27 / 2 Cal-bred winners
2005: Florida wins event 44-28 / 3 Cal-bred winners
2006: Florida wins event 37-35 / 5 Cal-bred winners
2007: Florida wins event 37-35 / 4 Cal-bred winners
2008: Florida wins event 58-14 / 1 Cal-bred winner
2009: Florida wins event 56-16 / 2 Cal-bred winners
I embrace the idea of a state-versus-state competition. After all, I was one of the roughly 12,000 who attended what was to be the only edition of the $1.65 million NTRA Great State Challenge at Sam Houston Race Park back in 2002, and I lamented its disappearance after that single occasion. In that neutral Texas site, California-bred shippers strutted their stuff by capturing two of the day's six stakes races, even though the overall competition included runners bred in 10 different states.
So there is always hope for an upset, I suppose. After all, the New Orleans Saints (dubbed the "Aints" by their long-suffering fans) are making their first-ever appearance in the Super Bowl next weekend. Unfortunately for those tea leaves, however, the championship game is being held in…you guessed it, Florida.
P.S. Anyone else find it ironic that this year's Sunshine Millions giveaway item — less than two weeks after Santa Anita Park lost three days of racing due to heavy rain — is an umbrella?
JANUARY 28, 2010
It's Enough To Drive A Girl To Drink
Losing the Horse of the Year vote for the second year in a row can be pretty depressing. Especially when no horse, male or female, has ever beaten you, and you've earned more money than any other member of your gender in North America — ever. So it's a good thing California girl Zenyatta can always rely on her faithful companion, John Shirreffs, to pick her up when she's feeling down.
One bottle of Guinness Extra Stout, coming right up! (Skip forward to the 3:54 mark for all the drunken debauchery)


I guess Zenny picked up her hankering for the famous Irish lager from her Emerald Isle-born dad, Street Cry.
Thank you, John, for allowing us all into your barn through your fun YouTube videos! Even though you didn't walk away with all the Eclipse hardware your team deserved last week, Zenyatta's devoted fans know who the real 2009 Horse, Trainer and Owners of the Year were.
Cheers!